Christmas
Christmas is our favourite time of the year at the farm.
We create a big Christmas tree forest with over 700 real trees on display at any one time for the public to come and walk through and hand pick there very own Christmas tree. Each time a tree is sold a new one is put in its place to view so the forest is always full and has plenty of choice to choose from.
Our trees are of a premium quality we stock Fraser fur, Nordmann fur, traditional spruce, holly wreathes, mistletoe, table potted plants and much more.
Our trees start from 5ft to around 12ft all trees are thick and full with no gaps between the branches and are available to view from the last week in November each year.

Each year we hold a Santa's grotto which is always a big hit here at the farm.
The grotto is a ticket event so you will need to keep your eye on the events page the Santa's grotto event is usually posted six weeks beforehand so plenty of time to book
but please bare in mind tickets do sell fast so try to book as early as you can to avoid disappointment.


Click here to be directed to our Tearoom Page!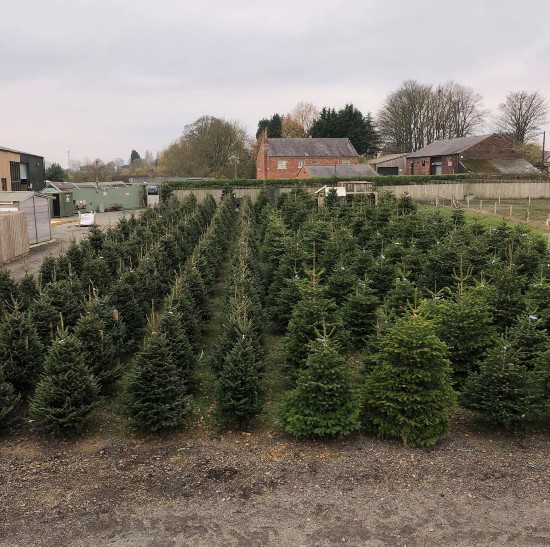 Take a look at some of our reviews!
"Fantastic experience today, lovely lunch in the cafe, gorgeous tree chosen and delivered and to finish a lovely visit with Santa and then the children got to feed the animals! Thank you very much"
- Gillian Ince
"What a fantastic farm and great grotto. Our boys aged 6 & 'big' 3 loved the whole thing. Santa was so lovely and patient. We will definately be back. Thank you for a well organised event."
- Samira Jane
"Thank you so much to all of the staff at Grange Farm for providing a wonderful Christmas experience for all of the family. The barns were decorated beautifully and it was lovely for our little boy's time with Santa not to be rushed. He had a great chat with Santa and was made to feel really special! We all had an amazing time and would definitely book again next year!"
- Catherine Taylor