Welcome to Grange Farm Lowton
Our Farm Shop and Plant Centre is open:
Monday - Saturday 10:00am - 5:00pm
Wednesday CLOSED
Sunday 10:00am - 4:00pm
Grange farm Lowton is ran by Andrew and Leanne with the occasional seasonal staff and a very close friend. Not sure how they do it but they do. Many customers are shocked when we tell them they do all what they do with no staff.
Andrew and Leanne are extremely dedicated and like to be hands on with everything including all the seasonal activities they create here at the farm for the whole family to enjoy.
Andrew bought the farm back in 1998 from the Bents family where he operated his landscaping and tree surgeon business from as well as processing seasonal hardwood logs and harvesting hay, haylage and straw for the horse industry.
Back in 2014 Andrew gave up the landscaping and tree surgeon side to concentrate more on the farm side off things and continue to process season hardwood logs and from then on they have never looked back and grange farm has continued to flourish over the years going from strength to strength.
Grange farm now offers a great variety of things for everybody to enjoy including lots of seasonal activities for the whole family to enjoy such as coming to visit the animals in the animal park, visit the lovely cosy tearoom, pumpkin picking, Halloween activities and disco, real Christmas tree shopping in the Christmas tree forest, the Santa's grotto and not to mention visiting the new farm shop which is full of all your daily local produce this is still a working progress so they are still adding new produce daily. They to always sell a handful of plants each year but this year April 2020 they extended on a much larger scale selling compost, topsoil, bark chippings, slate, stone, sand, cement a wide variety of bedding plants and a perennials/shrubs they are extremely lucky to have such a top quality supplier on all of their plants etc so May all your custom continue is this sector for many more years to come.
They started their new project 120 seat tearooms just over a year ago now which is now starting to take shape this has been a slow process but it is of a very high standard and it is starting to look amazing they cannot wait for it to open lots of very exciting things to come and share with you all They are really looking forward to you being part of this journey with Them so thank you all for your support may it continue.
PLEASE NOTE: WE DO NOT ALLOW DOGS ON THE FARM THIS IS DUE TO HAVING LOTS OF DIFFERENT BREEDS OF ANIMALS AND CANNOT RISK OTHER ANIMALS BRINGING ON ANY INFECTIONS THAT COULD HARM ANY OF OUR ANIMALS
THANK YOU
FARM SHOP - The farm shop has a great selection of products and produce on the shelves for you to buy and take away. We are really sorry but unfortunately we can not deliver these products. This may be something we can work on in the near future. However you can browse through the farm shop section on here and arrange a click and collect on a day that suits you.
We also sell logs, coal, etc in the farm shop which we do offer delivery on although delivery has to be over £100 to qualify.
Please take the time to browse through our online shop.

New temp opening times:
Mon - Sat 9:00am - 3:00pm
Wednesday CLOSED
Sun 10:00am - 3:00pm
Tearoom
In April 2019 we converted our outdoor office space into a small cosy tearoom with a nice homely feel to it all of the food is home made and made freshly to order. All our cakes are baked fresh on the day and we also serve the beautiful Illy coffee. This is currently closed since the covid 19 outbreak.
Please click here to view the pictures in our gallery.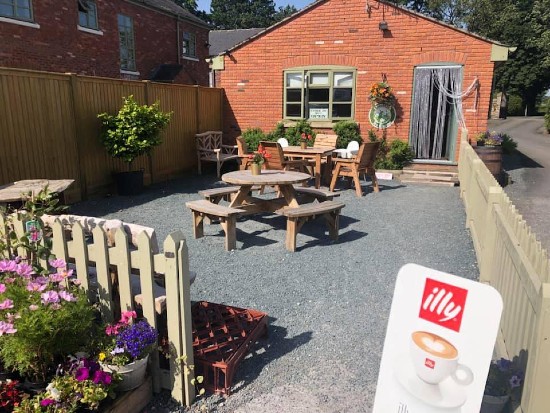 Animal Park
In April 2019 we converted our back barn into a indoor animal park along with fencing some outdoor paddocks to the back of the barn. We did this so that members of the public e.g. families, schools and care residents could come to the farm and enjoy a hands on experience with the animals feeding, holding, brushing, stroking and even bottle feed the animals (bottle feeding is seasonal).
We also created an indoor play barn and an outdoor play area so that children could also let off a bit of steam and play whilst here at the farm. We also run seasonal events and topics at the farm so that children can learn whilst here.
We run a tractor ride in the summer (weather permitted) children can see and learn about the things we grow here. We open up one of our fields also in the summer as a maize maze so there is always something extra to do whilst being here.
We run children's birthday parties here to from April - September please read through our party packages.
The animal park is open April - September then it closes for the winter so the animals can get a well deserved rest.
The animal park is currently closed due to the covid 19 out break will keep everyone updated when we can re open.
Click HERE to view our Gallery.
Animal Park opening times are:
Temporarily closed due to covid 19 outbreak will keep you all updated of a re-opening date.
Seasonal Events
Pumpkins
October is always the busiest time of the year for us at the farm we open up to the public to come and pick there own pumpkins out of our pumpkin fields.
Each year towards the end of may we hand plant thousands of pumpkin plants may 2019 we planted 10,000 plants and looked after all the plants on a daily basis ready for the the public to come and pick in october.
Throughout October we hold Halloween events to keep families and children entertained whilst here each year we do something different. We change the maize maze round to become a child friendly spooky maize maze.
We also convert our barn into a carving area so that you can carve your pumpkins here and leave the mess with us all you need to do is purchase the carving kit from us to participate.
Please click HERE to view our gallery. Any events around October will be posted in the events section at least a month before hand.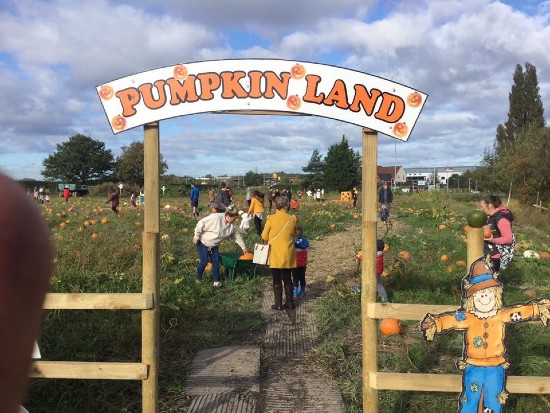 Christmas Event
Each year we sell thousands of real Christmas trees as well as potted trees, mistletoe,holly, holly wreaths, Christmas pots and much more. Our Christmas trees are all on display in our Christmas tree forest so that you can walk through them and hand pick your very own.
We offer local delivery all we ask is for a small donation and we deliver the trees after the farm closes at 5:30pm.
We also have a Santa's grotto each year at the farm this is a ticket event so you will need to look out for it in the events section. Each year we do something different so that our customers come back and enjoy yet again another year with us.
Please Click HERE to visit our gallery.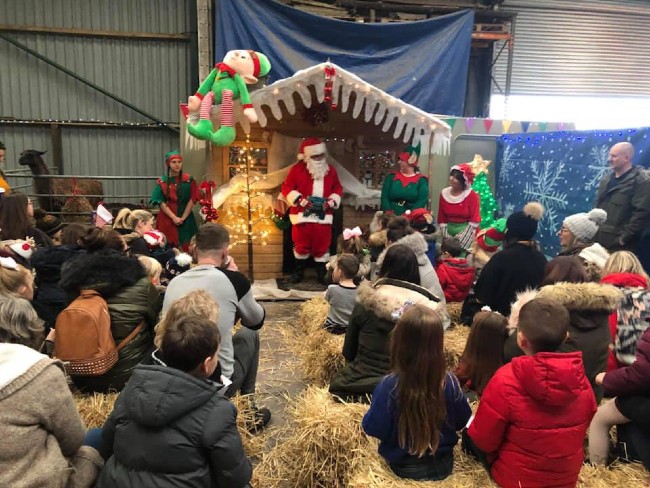 Birthday Packages
Our birthday packages are: £15.00 per head and are a minimum of 10 children.
Our animal party package times can be arranged on a sat or sun and at the times of 11am till 1.15pm or 1:30 till 3.45
Party food is included all you need to provide is the birthday cake, party bags and decorations.
The recommended age is form 2 years up to 7 years but 10 years is more than acceptable. Upon booking the party we require a deposit of £50 to secure the booking and pay the rest on the day of the party.
Free entry is granted to just one adult accompanying their own child any extra child or adult are more than welcome to sit and wait in the tearoom or pay the standard admission into the farm.
On arrival the party host will greet you and go through the party routine with you please note we do have to run the party on time to cater and set up for the next party if any on the day any child running late will just have to join in along the way.
We run a tractor ride this is included in the price of the party but please note can only be run providing the weather is ok and not rained to much.
If you would like more information please phone the farm and speak to a member of staff.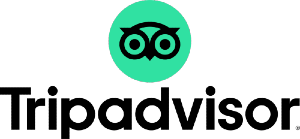 Click on the image above to check out our Tripadvisor!
Came to the farm this afternoon with my nearly 2 year old son, mum and brother. We all had a fab afternoon, lots to do and staff are very pleasant and chatty. Will defo be returning.

Jessica Bird Thursday, September 19, 2019
Amazing day out there today! Staff are so helpful and friendly and the animals are all so nice!!

Victoria Bradley Saturday, September 14, 2019
My 2.5 year old son loves it here. There are mini tractors and skittle bugs both of which he lives. The indoor animal section is fab. The staff are so friendly. We even got to bottle feed a baby deer today.

Sue Kelly Saturday, September 7, 2019
a great day today our daughter who has special needs loved the all the animals and staff were great too definately be coming again

Steven Wildsmith Saturday, September 7, 2019
I took my 2 Grandsons today, they are aged 7 & 2 yrs old. They both really enjoyed feeding all the Animals, going on a tractor ride, and the bouncy castles, and in the ball pool, and playing on the outdoor play area. The ice cream was really nice too. All the Staff were very friendly, and even came to tell us, that Bambi the baby Deer, was coming out for them both to feed. We are going back next month Pumpkin picking.

Sue Bennett Sunday, September 8, 2019
Get In Touch!
Address: Stone Cross Lane, Lowton, Warrington, WA31JU
Telephone: 01925290062
Mobile: 07585040503
Email Address: info@grangefarmlogs.co.uk
How To Find Us